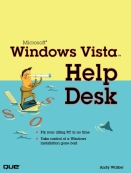 Windows Vista Help Desk

Andy's latest book helps you troubleshoot Windows Vista, the embattled new operating system from Microsoft. It's got everything you need to know about bending Vista to your will, helping with hardware and software issues, ornery drivers, troublesome graphics, and imperfect security features all with a healthy dose of humor, and a little Microsoft cynicism to keep everyone honest.
Buy now from Amazon.ca
Buy now from Angus & Robertson (Australia) »
Editorial Review:
from amazon.com...
The Windows Vista Help Desk is the definitive troubleshooting guide that gets Windows Vista, Microsoft's new operating system, tamed so it will do a users bidding. This book exposes the flaws and nuances of Microsoft's newest operating system and teaches you how to work with its quirky personality and fix the problems they have with it so they can get on with using the computer as a tool in their life. This book is not just about finding the right-hand mouse button however. It's about digging deep inside the operating system to unveil expert level tools and techniques. It offers a step by step head-patting, hand-holding experience on how to use them as if you were a trained professional. The book covers hiccups, coughs, crashes, blue screens, reboots, system failures, malware infections and other forehead aching issues that make happy users clench their fists and curse the good name of the sweet and kind geeks in Redmond, Washington. It is also peppered with warm, fun and sympathetic sidebars, notes and asides that will cheer users out of their rage and into a state of Windows Vista loving bliss.
Download a PDF of the front and back cover.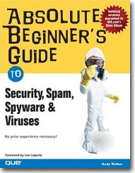 Absolute Beginners Guide to Security, Spam, Spyware & Viruses

Andy's latest book details everything you need to know about securing your computer against malicious attacks and software.
Buy now from Angus & Robertson (Australia) »
Editorial Review:
from amazon.com...
Batten down the hatches! Hackers, spammers and thieves (oh my!) are after you! The mere act of turning on an Internet-connected computer can put you, your family, and your personal finances at risk by exposing you to viruses, scam artists, hackers, identity thieves, and spammers. How do you fight back? Absolute Beginner's Guide to Security, Spam, Spyware and Viruses is your first line of defense.
Clear, easy-to-understand definitions of viruses, spyware, and hackers will help you understand what you're up against everytime you go online. Then, you'll learn about other threats, such as identity theft, phishing, and other potential dangers you'll face in your everyday computing. Find out how to search out and destroy spyware, malware and other viscious programs that could potentially harm your computer. Then find out how to lock out hackers, spammers, and theives for good.
We'll tell you how to immediately cut the risk of being attacked in half - in less than 10 minutes! Protect your bank accounts, digital photos, digital music collection, masters thesis, and everything you hold near and dear on your computer with the help of the Absolute Beginner's Guide to Security, Spam, Spyware and Viruses.
Learn more about this book at the following link >> Cyberwalker Books.